What is the ENN?
The University of Miami Emergency Notification Network (ENN) is a comprehensive communications solution that allows the University to quickly disseminate an urgent message through multiple communication mediums including:
SMS Text Messages to Cell Phones 
Voice Messages to Cell Phones
Email
Emergency Information Hotline 1-800-227-0354
UM Website Banners: www.miami.edu
UM Emergency Preparedness Webpage: www.prepare.miami.edu
UMiami Mobile App: www.miami.edu/mobile
Facebook: www.facebook.com/UMiamiENN
Twitter: @UMiamiENN
Campus Cable TV (Gables & Medical Campuses Only) 
Outdoor Warning Sirens (Gables Campus Only)
Public Address (Gables Campus Bldgs. & Outdoor Areas Only)
Digital Signage (Select Gables Campus Buildings Only)
Local News
Newspaper
Who are ENN messages sent to?
ENN messages are sent to every single member of the University community who has his/ her personal contact information registered on CaneLink (Students) or Workday (Employees). Those individuals who do not have his/ her personal contact information registered on CaneLink or Workday will not receive ENN voice or text messages on his/her cell phone, and may not receive ENN emails if their contact information is out of date.
How do I make sure I receive ENN messages?
Instructions on how to register or update your information for ENN can be found below. 
•  ENN Step-by-Step Registration Guide for Students via CaneLink.
•  Workday Tip Sheet for Employees to Update Their Contact Information
What might an ENN Message say?

In an actual emergency, here is a sample initial message you may receive via text message, voice message, or email:

UMiami ENN: ARMED INTRUDER ON GABLES CAMPUS. Seek a secure location now if you are on campus. Avoid area if off campus. www.miami.edu/prepare or 1-800-227-0354
What should I do if I receive an ENN message? 
Do what the message tells you to do! If the message tells you to "find a secure/safe location or avoid the area" do just that. The two most likely actions to find a secure/safe location are to Evacuate or Shelter-In-Place. Consult the UM Emergency Guide for more information.

The primary purpose for Evacuating is to put distance between you and the hazard. Depending on the type of emergency, evacuation procedures may vary.

The term Shelter-In-Place is used to refer to situations where it is safest to remain indoors rather than face uncertainty outside. Depending on the emergency, appropriate areas to shelter may vary. When sheltering in place, seek safety by placing barriers between you and the danger. This could include walls, rooms without windows, locked doors, furniture, etc.
Can parents register to receive ENN messages?
Only students, faculty and staff with active CaneLink and Workday accounts are entered into the ENN system's primary notification methods (text, voice calling, and email). Allowing parents or the general public to register could potentially slow the overall speed at which the system sends messages.

However, parents and/or family members may opt-in to receive ENN text messages by following these steps on any mobile phone with texting capability:
Enter the number "226787" in the "To:" field (i.e., who you are sending the text to).

Enter "UMiamiENN" as the text content and hit the send button.

You should receive a reply shortly after sending that says "Welcome to UMiamiENN..."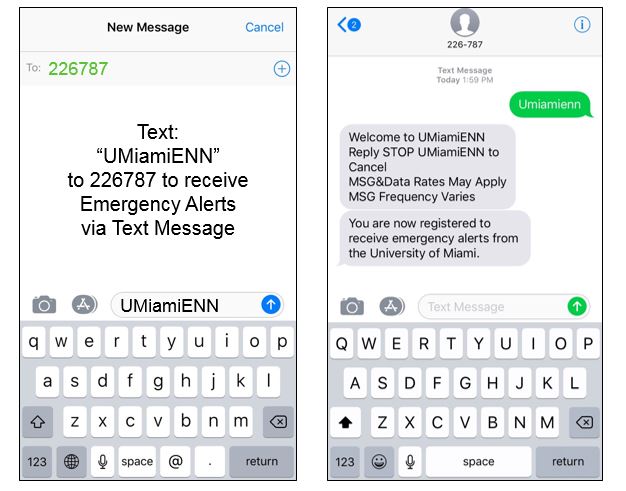 Parents are also highly encouraged to Like UMiamiENN on Facebook, or Follow UMiamiENN on Twitter to receive additional info via social media.
What should I do if I am having difficulties registering my contact information for ENN?
If you are having difficulties registering, or updating any contact information on CaneLink or Workday, or are having any questions/problems with the ENN, please do the following. First go through the appropriate ENN Step-by-Step Registration Guide to assure that all your contact information is up to date.

•  ENN Step-by-Step Registration Guide for Students via CaneLink.
•  Workday Tip Sheet for Employees to Update Their Contact Information.

After doing so, if you are still experiencing difficulties, please send an email to the Office of Emergency Management at oem@miami.edu with the following information:
Your first and last name

Your University C-number

Your contact telephone number where you can be reached regularly

Your cell phone number where you expect to receive the emergency calls/text messages

What the specific problem is, if you can describe it
If you would like to receive ENN messages on an international mobile phone number, please send an email to the Office of Emergency Management at oem@miam.edu with the following information:
Your first and last name
Your University C-Number
Your contact telephone number where you can be reached regularly
Your international mobile phone number where you expect to receive the emergency calls/text messages
---