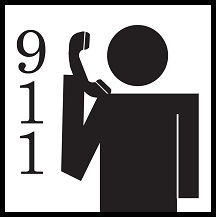 Emergency: Any threat to life and/or property that requires immediate response from police, fire or medical services.
Examples:
If you are unsure if an incident is an emergency, call 911.
---
ACTION GUIDELINES
To report an emergency on campus:
Make sure you are in a safe location, otherwise find one

Do not attempt to interfere with the situation, except for self-protection

Observe the activity from a safe distance

Call 911

Tell the dispatcher:

Do not hang up unless your safety is threatened or you are told to do so

Watch for arrival of emergency personnel and direct them

After emergency personnel arrive,stay out of the way but do not leave

Clery Act Crimes:
Murder and Non-Negligent Manslaughter, Negligent Manslaughter, Sex Offenses (Forcible and Non-forcible), Robbery, Aggravated Assault, Burglary, Motor Vehicle Theft, Arson and Hate Crimes as defined by the Federal Bureau of Investigation's Uniform Crime Reporting Handbook.

To report a Clery Act crime:
Any Clery Act crime committed on or near University of Miami campuses should be reported to the following:
Coral Gables Campus

: University of Miami Police Department.

Medical Campus

 (Miller School of Medicine & UHealth): Medical Security Department

Marine Campus

 (Rosenstiel School of Marine and Atmospheric Science): Emergency Preparedness and Campus Safety Manager and local police

For all other UM locations: University of Miami Police Department and local police

Please refer to the University's Timely Warning Policy for more information about this reporting requirement.
---